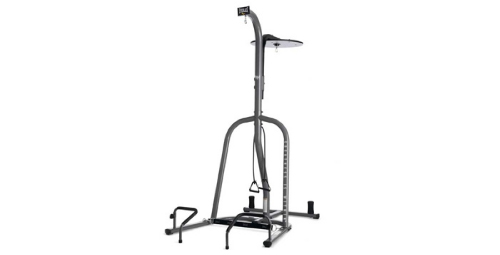 When you have limited space and have absolutely nowhere to hang your heavy bag…then the Everlast Heavy Bag Stand and speed bag platform is here to save the day.
Quite simply, the stand will give you the ability to hang your heavybag and speed bag, you can position it anywhere in the room, basement, garage etc. You can instantly have a home MMA gym.
Everlast is perhaps one of the most trusted brands in combat sports and this heavy bag stand is built to last. It has super duty steel tube construction for a very sturdy support. There is also pegs to put weights on, for a solid and stable foundation.
This new design also has the hooks for sit-up straps and also bars for dip exercises.