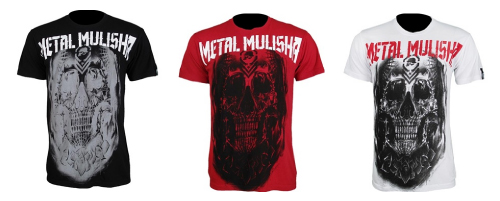 This is the signature Dominick Cruz T shirt by Metal Mulisha. It features a comfortable 100% cotton crewneck design. The shirt is part of Metal Mulisha's 100 Proof collection.
There is a huge skull on the front of the shirt with big branded letters at the top. Its definitely an intense shirt that takes it inspiration from popular tattoo art. The brand's logo is located also on the back of the shirt and they are available in either black, white or red fabric.
Dominick Cruz is currently the Bantamweight Champion and defended his title against Urijah Faber in the main even of UFC 132 on July 2, 2011.
Buy the Dominick Cruz Metal Mulisha T shirt
See other Dominick Cruz Shirts