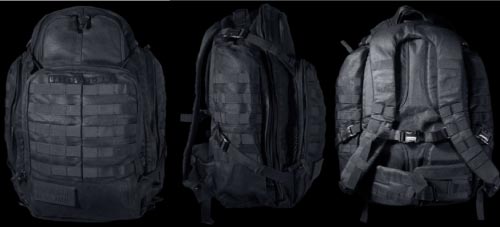 The Datsusra Battlepack BP-02 is the best MMA back pack ever. It's the updated version that's designed specifically for MMA athletes and has the strength of US military specs. This is the ideal bag if you are looking for the most convenient and comfortable way to transport your MMA gear.
The material of the MMA backpack is constructed of 100% canvas that is extremely durable and has a porous surface that allows air circulation to dry out your gear better. It also has anti-microbial properties that prevent mold and fungus to grow in the fabric.
Why s this the best MMA backpack?, full specs:
Large main compartment
Center compartment expands and also has compression straps
Large side pockets for bottles, towels, quick access items
Front pocket with dividers
2 sided zip pocket for mouth guard and wallet. (super convenient)
A removable Back plate keeps the pack's form and provides support
Inside pockets for laptop
Media player compartment with headphone opening
Molle-compatible webbing on front and sides
Sternum strap and padded waist strap that can be hidden when not in use
Antimicrobial fabric
Back and Hip Pads for comfort
There is a emovable logo with velcro patch, you can customize it with your own patch
Also include is a large polyester "nasty bag" to separate your wet MMA gear
The battlepack is priced at $100, but is DEFINITELY worth it. You get everything you need:
1. Convenience (pockets specifically designed for MMA, lifestyle, laptop)
2. Comfort (ergonomics, support straps and padding)
3. Durability (strong fabric, meets US military specifications)
4. Design (stylish, customizable)
Easily the only bag for MMA you will need.