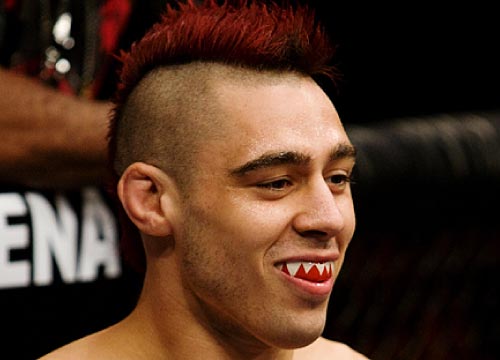 If you haven't already noticed, Dan Hardy's mouthguard is pretty cool. It's a bright red mouthpiece that has graphics to look like very sharp shark teeth or piranha teeth.
This custom MMA mouthguard plays are role in psychological warfare and can give an advantage to someone who wears them. Hardy's mouthguard is definitely intimidating to look at and can distract his opponents in the octagon.
Fight Dentist is known around the world for making custom mouthguards for top fighters and you can also order one to your exact design specifications.
You can make it look like sharp teeth, put your team logo, or even a smiley face! (just to mess with your opponents mind)
If you dont want custom, but just want a mouthguard with fangs we have it at an affordable price of only $30.


Monster Teeth Mouthguard $30 (red or black)


Mouthguard with Fangs – $30