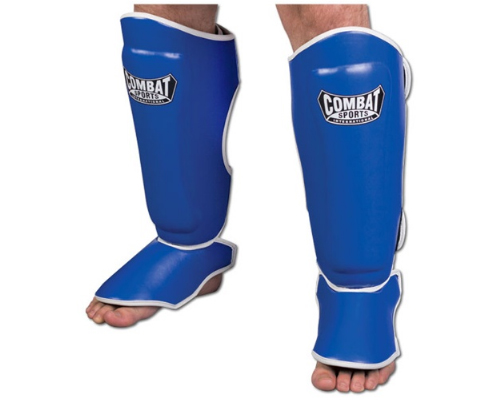 MMA shin guards are an essential component for MMA gear and for effective training. Combat Sports has made the typical strap-on shinguard a more comfortable and useful training tool.
A common problem with strap on MMA Shinguards is that they tend to rotate off to the side. This is due mainly to high-power kicks or an awkward blocking movement.
Combat Sports analyzed leg positioning while kicking to develop a more ergonomic shin guard. These are designed to reduce the amount of slippage, shifting and rotating of the pad. The main benefit is a more fluid and continuous training session, you'll spend less time having to pause to fix the alignment your shin pads and more time to kick ass.
The shingaurds are made of synthetic leather which is easy to wipe clean and have heavy duty padding in all the necessary areas including the instep.
Combat Sports Ergonomic MMA Shin Guards Pads available in Blue