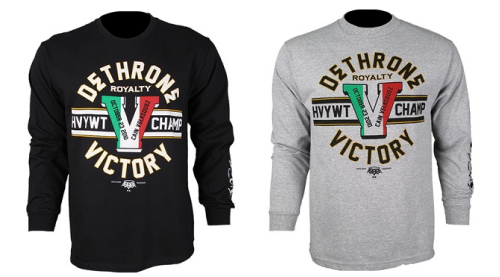 Now that Cain Velasquez is the UFC Heavyweight Champion, Dethrone has created this new Cain Velasquez Victory Longsleeve Shirt.
This shirt features a new Cain design with a big "V" in the middle that is outfitted with the Mexican flag colors to pay homage to Cain's proud heritage.
The "V" symbol also has the inscription of October 23, 2010 the historic day when Cain Defeated Brock Lesnar in the first round by an attack of brutal strikes, making Cain the first Mexican Heavyweight Champ.
The shirt comes in either black or gray, it is performance fitted and will be slightly smaller for a form-fitting fit.