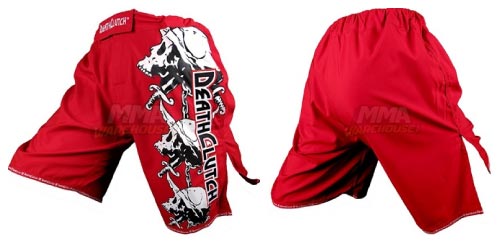 The Brock Lesnar's shorts that he wears in his fight against Shane Carwin will be theses Deathclutch shorts, they were inspired by the Original Deathclutch T shirt.
Lesnar's shorts feature the same design of the skull and bones chain link, a graphic that keeps within the "hardcore" theme. The shorts will only have the design on the front left leg and the rest is blank red fabric, which is ideal for team patches or sponsorship logos.
On the bottom rim of each leg is a Deathclutch logo pattern that forms a border around the leg. The waist strap also has the logo.
As you know, the UFC 116 is an incredibly important fight, as the winner of the Brock Lesnar vs Shane Carwin fight will determine the Undisputed UFC Heavyweight Champion.