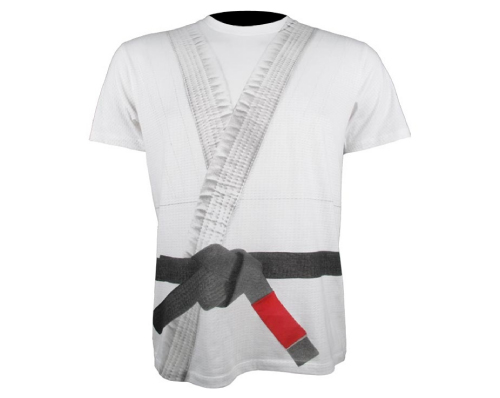 Malee has created a one-of-a-kind novelty MMA T-shirt that looks like you are wearing a Brazilian Jiu-Jitsu Gi. The graphic is printed with "soft feel" ink to give the illusion of a BJJ Gi fabric and lapel along with a Black Belt image that is positioned at the waist.
These are fun shirts if you want to proudly display your BJJ prowess. But be warned, wearing these kinds of shirts in public (like the iGrapple Shirt) can cause people to challenge you to a sparring or grappling match. And unless you have the real deal skills to back it up, it might not be that fun to wear. So please be advised.
With that said, it is definitely a cool BJJ T-shirt that can be appreciated by all MMA fighters and fans.