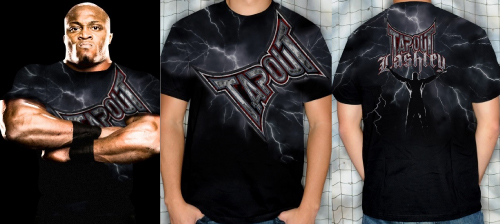 Tapout is always ahead of the curve when it comes to signing on new talent to their signature series line. Bobby Lashley is definitely talented and is touted as the next big thing in MMA. He is a former professional wrestler turned MMA fighter and has been successful in his MMA career, Lashley is currently undefeated (4-0).
Lashley fights for Strikeforce and will be facing MMA veteran Wes Sims in Srikeforce Miami on January 30, 2010.
Tapout's Bobby Lashley Signature T shirt features a simple, yet powerful design. On the front is the Tapout logo with a lightning storm behind it. On the back is a silhouette of Lashley with the lightning storm background…perhaps suggesting that Lashley is a destructive and fast, like a force of freaking nature, man.