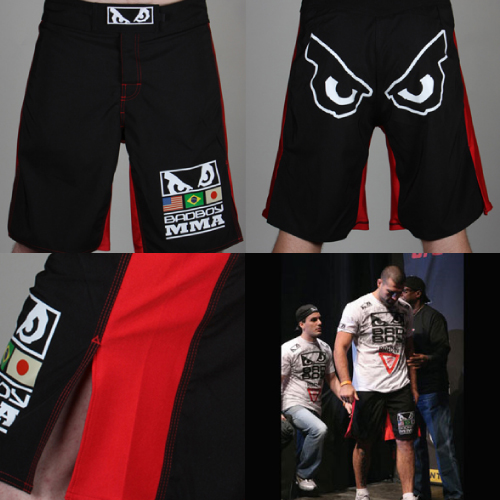 The Bad Boy World Class Pro Fight Shorts are the same shorts that Shogun wears during his training and at UFC weigh in (as pictured above). Bad Boy MMA is one of the authentic MMA brands from Brazil
Construction and Durability
These Bad Boy Shogun shorts are one of the most durable and all-around MMA shorts they are great especially for cross-training. It features a Technical Ballistic Nylon that has been engineered to withstand the high stress from intense MMA training. Combined with a contrast "triple stitch" for extra strength makes the shorts have extreme durability.
Comfort and Fit
The Pro Bad Boy Shorts have stretch panels in the inseam and additionally on the sides. Usually shorts have stretch panels only on the inseam, and this extra panel gives you a wider range of mobility and increase comfort for almost any type of training activity. A lot of people even wear these shorts around the house or at the beach since they are so comfortable. As with all top quality MMA shorts, There are split seams on the sides of the legs so your knees don't get caught. The split-seams are also reinforced with a triangle stitch to ensure that they don't rip.
Design
Bad Boy MMA has always had the classic and iconic design of the popular bad boy " eyes" logo. It has been one of the most recognized brands since throughout the history of MMA. The shorts feature an embroidered patch on the leg that includes the flags of Japan, Brazil and the US – the top three nations involved in MMA. On the back features the bad boy eyes and there is also a small eyes logo on the front of the waist band. We really like the simple and sharp look of these shorts; there is plenty of blank space to put other sponsorship patches and the red looks really great in contrast with the black.
Overall review
These shorts are truly "world class"and are a great all-around MMA shorts for training. You can depend on its durability and the reputation of Bad Boy MMA as one of the best brands..