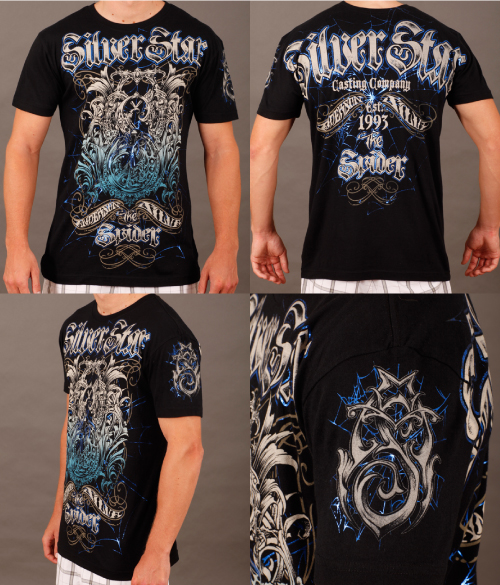 In Anderson Silva's previous fight (UFC 97) he successfully defended his UFC Middle weight title from Thales Leites and for one reason or another the fight was considered to be a "lackluster" event. Even though Anderson Silva won — UFC President Dana White, the media and many fans were not satisfied. Almost everyone felt that Silva needed to push the pace of the fight much more. But, maybe the reason is that Anderson Silva is just too talented and too technical. Perhaps he has "cleaned out" his middleweight division, he is after all, the best pound-for-pound fighter in the world.
So, to give fans what they want, Silva will be moving up a weight class to Light-heavyweight and will fight Forrest Griffin in UFC 101. Forrest is a former champ and is extremely aggressive, fast-paced and one of the biggest guys in the LHW division – the ideal fighter to push Silva. This match up has the potential to be fight of the year and it will be a war.
Above is Anderson "the spider " Silva's Shirt for UFC 101 from Silverstar Casting company. It features an intense new design that incorporates a spider in the middle that is spinning a blue web (foil accents) around the central "S" graphic of the shirt. The overall design has vivid tattoo-like image that is associated with Silver Star's unique style.