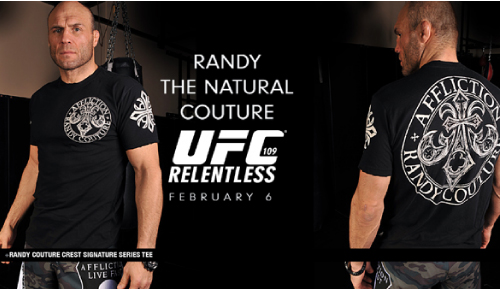 Affliction has released another T shirt for Randy Couture's UFC 109 bout with Mark Coleman.
Following Randy's Warbird Tshirt; Affliction launches the new Randy Couture Crest Signature T shirt, it as well, takes another direction away from the traditional Affliction design.
Instead of the shirt being engulfed with intense graphics, the Randy Couture Crest shirt features a streamlined but bold design. It has a big circular logo on the back, while it the front has the same logo positioned like a badge on the left chest. The logo is pretty sweet-looking there are no dragons or skulls or that sort of thing, but just the crest and simple design.