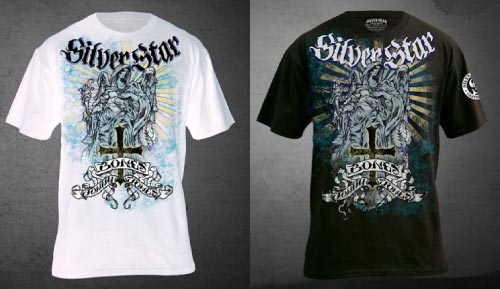 Jon "Bones" Jones will be headlining on the first ever UFC on Versus event on Sunday March 21, 2010. Jones will fight in the main event against Brandon Vera.
Jones has shown a lot of promise and is touted to be one of the next UFC superstars. At only 21 years of age he has plenty of room to grow and flourish. His style of fighting is very explosive, a perfect example was his complete domination of Stephan Bonnar at UFC 94.
For this UFC on Versus fight, Silver Star Casting Co. has developed a Signature T shirt for Jones. It has the ever popular Silverstar style with intense graphics on the front and back. This particular shirt focuses more on a spiritual theme, with a large cross highlighted on the t shirt. As well as an angel or saint-like figure that grace both sides of the t shirt.
Don't blink when you watch Jones fight, he has incredible quickness…. with elbow strikes and spinning back fists that cause fast destruction to his opponents, you won't want to miss any action!
You might also like: