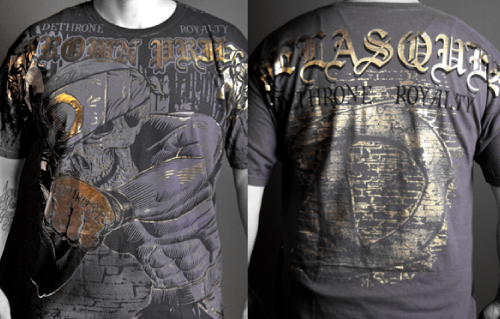 Cain Velasquez is a rising star in the UFC's heavyweight division, he is currently undefeated in his MMA career with a 6 – 0 record. Velasquez has impressed the MMA industry when he dominated top contender Chieck Kongo with a vicious ground game.
There is certainly a lot of potential for Velazquez as he will face the very experienced Ben Rothwell in UFC 104. It's been rumored that if Cain Velazquez wins this fight he is next in line for the Heavyweight title shot.
As you may know, Cain Velasquez is very proud of his Mexican heritage and Dethrone Royalty has released a new version of its Cain Cain Velasquez signature shirt dubbed the "Brown Pride" shirt that pays tribute to his Mexican heritage.
The Dethrone shirt features gold foil accents throughout and is especially detailed in the brick graphics on the back. The front showcases an intense skull-headed fighter that is exploding with a punch, perhaps to imply Velasquez's explosive power.
Buy Cain Velasquez's Dethrone MMA Shirt
You Might Also Like:



Cain Velasquez T shirt UFC 121 vs Brock Lesnar