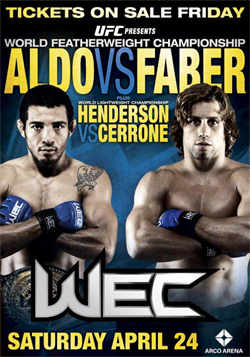 WEC 48 will be the first ever WEC event that will be held live on Pay-Per-View, it has a totally stacked card with everything to offer for an exciting PPV event.
Zuffa the owners of UFC and WEC, will actually have their UFC commentators (Rogan, Goldberg, Buffer) handle the event.
WEC 48 will have 3 main events to look out for. First is Jose Aldo vs Urijah Faber fight: Aldo is touted as one of the pound-for-pound MMA fighters and will make his first defense of the featherweight tiles against former WEC champ, superstar Urijah Faber.
Second, we have Ben Henderson who will defend his lightweight title in a rematch with Donald Cerrone, the first time these two fought it was awarded 2009's fight of the year. As you can see, it has the makings of another epic fight.
Finally, we have former champ Mike Brown against Many Gamburyan, whoever wins this fight will most likely face the winner of the featherweight title in the first match of the night. There is definitely a lot on the line here and another golden opportunity for Mike Brown to get back his title.
Jose Aldo Shirt


Jose Aldo WEC 48 Dethrone T Shirt
Urijah Faber Shirt and Shorts


Urijah Faber WEC 48 T Shirt
Donald Cerrone Shirt


Tapout Cowboy Cerrone T Shirt
Mike Brown Shirt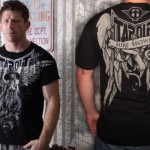 Mike Brown Tapout Signature Series T Shirt