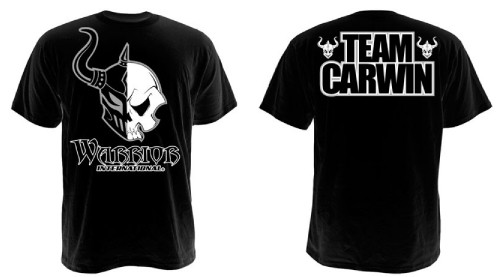 Shane Carwin's teammates, trainers and coaches will be wearing this official training camp shirt in UFC 108: The Warrior Team Carwin Shirt. These are the same shirts that will be on the UFC countdown show prior to the championship fight.
The top contender, Carwin, will fight Brock Lesnar at UFC 108 main event for the UFC Heavyweight title. This has the potential to be a very exciting fight as both fighters are giants with incredible power. (Brock weighs in at 265lb and Carwin weighs in at 259.5 lb.)
Shane Carwin is currently undefeated in the UFC and gained tons of recognition when he knocked out top fighter Gabriel Gonzaga, with a jab in 69 seconds of the first round.
This fight marked Carwin's 11th straight victory where he won each fight in the first half of the first round. It's clear that Carwin has great potential; a rising star in the UFC Heavyweight division.
The Team Carwin Shirt features the popular Warrior International logo on front and a bold team Carwin on the back. The MMA T shirt design is sharp and straight to the point, its not too flashy and is the a perfect shirt to show your support for Shane Carwin!

Buy the Team Carwin T Shirt
You might also like:
Shane Carwin Official Warrior T shirt



Shane Carwin Warrior T shirt