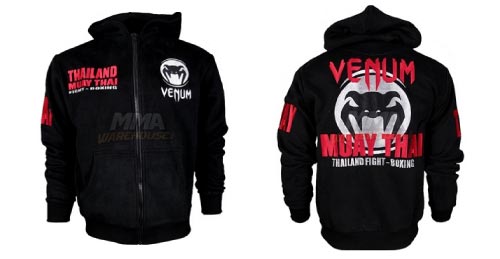 Venum MMA Gear has updated their original Venum Muay Thai 2 Hoodie. This new hoodie is a Zip Version and is a favorite among Muay Thai fighters and fans.
The Venum Muay Thai 2 Zip Up hoodie features some of the best embroidery available on an MMA hoodie. First, the embroidered graphics are huge, covering most of the back and a good portion of the sleeves. The main benefit of the embroidery stiching is that they are a lot more durable than patches.
Besides the extreme durability, the graphics on the venum hoodie looks excellent. The back has the snake fang logo in silver and all the letters feature a bright red tone to make one of the sharpest looking pieces of MMA clothing out there.