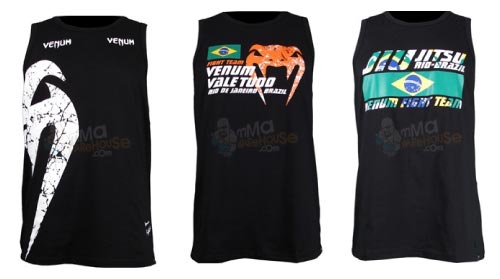 Alright guys, summer is right around the corner and warm weather clothing is a necessity for MMA training in hot climates.
Venum has a sweet selection of Tank tops that are perfect for MMA training/working out when it's blistering hot in your gym, the beach or whatever. These tank tops will keep you cooler and also enable to you to show off your massive guns for the ladies. (Don't have muscles? Try this free MMA supplement to help you out)
Venum Giant MMA Tanktop
There is the Venum Giant tanktop, with a huge snake fang logo. These are the same images that you will find on the Venum Giant Rashguard.
Venum Vale Tudo Attack MMA Tanktop
The Venum Vale Tudo Attack Tanktop features a smaller orange snake fang logo with the Brazilian flag.
Venum Jiu Jitsu Competitor Tanktop
This Venum Jiu Jitsu Competitor Tanktop, is by far, our favorite. It has the Brazilian flag colors and features the Venum Fight Team Rio Brazil label.