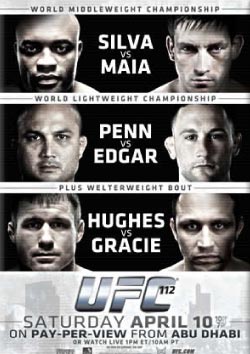 UFC 112 Invincible will be held for the first time ever in United Arab Emirates and will take place in an outdoor arena, also a first for the UFC.
The main event will feature the Middleweight title fight between reigning champ Anderson Silva and challenger Demian Maia. This fight is touted as "The Best Striker in MMA" Silva, vs "the Best Grappler in MMA" Maia.
The cards co-main event is the Lightweight Title fight between long time champ BJ Penn and challenger Frankie Edgar.
Two legends will also battle, Matt Hughes and Renzo Grace in a very long anticipated welterweight grudge match. Renzo is seeking vengance for his cousin and fellow legend Royce Gracie who was defeated by Hughes in UFC 60.
Kendall Grove and Mark "The Filipino Wrecking Machine" Munoz will be fighting to stake their place as a top contender in the Middleweight division.
Anderson Silva T Shirt UFC 112


Anderson Silva Silver Star Official Walkout Shirt UFC 112
Anderson Silva will be wearing a new Silver Star T shirt design with a spider and web graphic on the front.
Demain Maia T Shirt UFC 112


Demian Maia Walkout Shirt
Demian Maia will be wearing his Bad Boy MMA signature Series T shirt that feature a yellow Bad Boy logo on a charcoal T shirt.
BJ Penn T Shirts and Shorts UFC 112


BJ Penn Black Belt Gi T Shirt


BJ Penn Cage Fighter T Shirt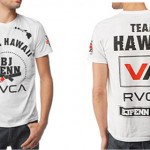 BJ Penn Team Hawaii T Shirt


BJ Penn RVCA Black Belt Fight Shorts
Frankie Edgar T Shirt UFC 112


Frankie Edgar Affliction T Shirt
Renzo Gracie MMA Shirt


Tokyo Five Chromeo Devil Jersey
Kendall Grove T Shirt UFC 112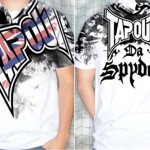 Kendall Grove Tapout T shirt
This Kendall Grove Signature Series shirt from Tapout is the same shirt he wore for his fight in UFC 106.
Mark Munoz Shirt and Shorts UFC 112


Mark Munoz Warrior International UFC 112 T shirt


Mark Munoz Warrior Wear Shorts