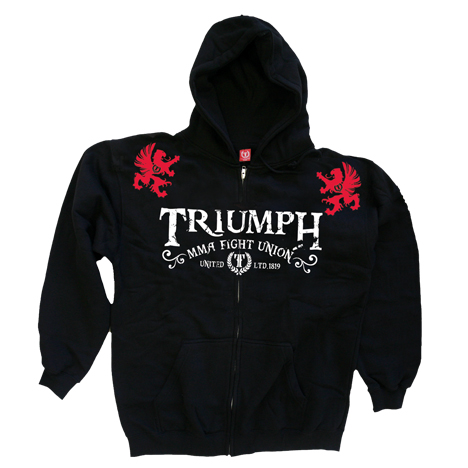 Triumph United is a marketing company which has also put out some great apparel for MMA. I have the "MMA Fight Union" hooded sweatshirt here for review. This particular design can also be purchased as a short sleeve t-shirt.
Design
The quality of the sweatshirt is very nice. It feels great, very soft and smooth. It does not feel like a cheap hoodie at all, and I would say it is one of the nicest I have put on. The material is somewhat thick, it will be good for winter and late fall/early spring, but otherwise it would be too hot to wear. I know there are some people who like to wear hoodies almost all year round, but this is more of a cold weather hoodie. The fit is perfect for people who are in shape. As you can see, the arms look a bit baggy, but I am a pretty skinny person. It is cut for athletic builds, which I like because a lot of hoodies you buy have the arm holes to low, made for shorter, heavier guys. The Triumph United hoodie is better for average to tall guys with athletic builds. I am 6'0 even, and the hoodie in the picture is a Medium. It is a good length for me, it doesn't rise and show my skin when I raise my arms.
Looks
This is pretty straight forward. There are 2 red standard lion logos that are around on some clothes today. The words say "Triumph, MMA Fight Union, with a small United, Limited 1819." I thought this was great because there are so many over the top designs out there, too try hard or too cheesy, or have nothing to do with MMA. This logo is really straight forward and plain, but also really cool. If you don't like the design, there is another hoodie that has just the "T" logo for Triumph United. Unfortunately, the many designs for the t-shirts are not all available on the hooded sweatshirts, but that might change.
Overall Review
The Triumph United "MMA Fight Union" is an excellent hoodie. It is of great quality and has a nice and simple, yet cool logo. I would not recommend this for working out, as it would be too hot to wear, and there is a full length zipper. But this sweatshirt is great for wearing out, and you are sure to get some looks and compliments.
Since it is around the same price or cheaper than most MMA hoodies, I highly recommend this if you like the looks and design, due to its high quality and fit.
Note: The hoodie is 100% cotton and may shrink if washed and dried in warm temperatures.