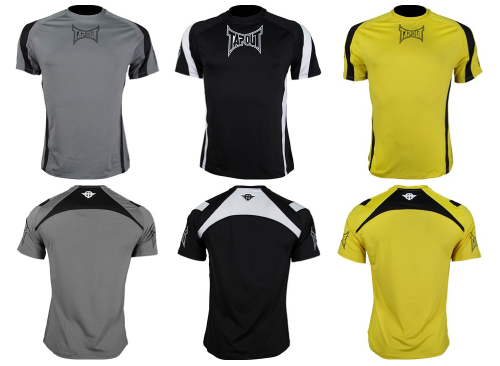 The Tapout Performance Shirt Loose are a part of the new series of high-tech Mixed Martial Arts gear and clothing.
Basically, these shirts are intended for the professional who demands a high-quality construction and a clean but sporty design. These are designed to be loose-fitting and feels like you are wearing an athletic fit T shirt. It's NOT like the typically skin-tight form fitting MMA rashguards.
The performance shirts are made of 100% polyester to wick away moisture and will dry quickly. It also has the durability for withstand the normal wear and tear of training.
You have a choice of grey, black or bright yellow. They all have a slim and stylish black panel running down the sides and a small panel on the top of the back.
This is definitely a great choice instead of wearing a regular t shirt to your training sessions!
Buy the Tapout Performance T shirt Loose Fit