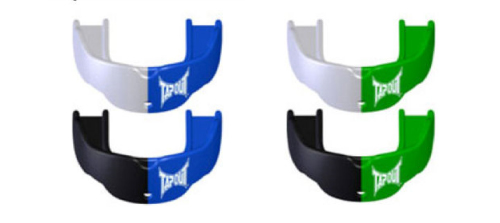 The New TapouT Mouthguard is not just only for MMA but is for all contact sports. MMA is arguably the toughest sport in the world and it utilizes advanced technology to protect its athletes.
Tapout has incorporated this technology into all contact sports so every athlete has the same advantage in protection and safety. It is ideal for sports including: hockey, football and lacrosse.
The Tapout mouthguards feature a two-tone color scheme and is available in 5 color combinations (Black, Blue, Green, Orange and Red).
You get 2 mouthguards in each pack, the color of your choice that has one half black and the second set with a white half. This variety of color combinations is great because enables you to match your team colors.
These mouthguards have a wide range of features: Jaw Stabilization, Air Flow Channels, Strap Attachment Slot and a Bottom Teeth Barricade. But perhaps the most significant feature is the TapouT Mouthguard's $30,000 dental warranty, this is twice as much as other mouthguards on the market. It certainly gives a sense of security to every coach, athletes and of course, parents!
TapouT Moutguard For MMA and All Contact Sports – Click Here