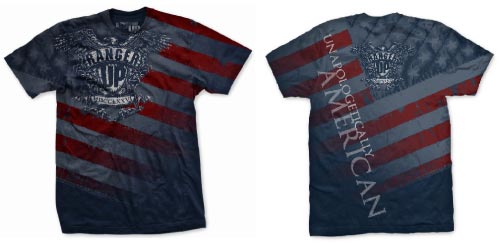 The newest arrival to the Ranger Up's "Unapologetically American" line is the War Eagle Flag MMA T shirt. It is inspired by the Military just like the rest of Ranger Up's "kick-ass" shirts.
The War Eagle Flag shirt essentially takes the original War Eagle T shirt and blends it with graphics of the American flag. The emblem is smaller and positioned along the top right chest. This gives plenty of room for the red and white stripes to fade into the background.
And, the key feature of this shirt is on the back where their slogan "Unapologetically American" is posted.