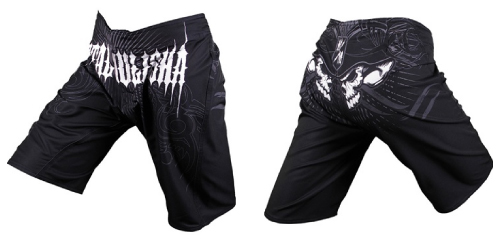 The Metal Mulisha Favela shorts are a fresh pair of MMA board shorts. It has a huge Metal Mulisha logo on the front and has a stylized tattoo-like background.
On the back, features a more creative design with the skulls and biker helmets clashing together. The MM brand focuses on extreme sports and the lifestyle, it's clothing is inspired by Motocross and Mixed Martial Arts.
These shorts are also built tough enough for training, it has a very resilient and durable stretch fabric (100% Polyester). There is also an "Over The Top" Velcro closure that makes sure it doesn't open while rolling or sparring.