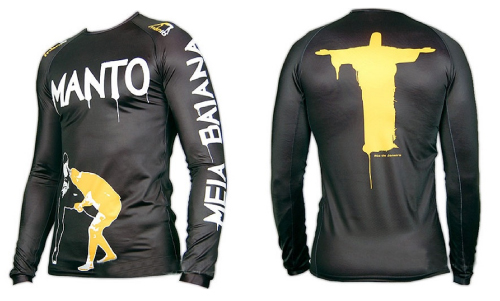 Manto makes the most unique MMA rashguard designs, one of them is the Meia Baiana version. In Brazilian Jiu Jitsu "Meia Baiana" means "Single Leg Takedown" which is a one of the fundamental moves in BJJ.
The graphics on the rashguard are quite intense it has the Meia Baiana text to appear its been freshly painted on. And there is the famous Manto grapplers logo offset on the front. But, perhaps the most unique of the graphics is the silhouette of the Christ statue that overlooks Rio De Janiero, Brazil.
You might be thinking that these graphics might wear off, but not to worry, Manto basically uses a process that tattoos the ink into the fabric. This process makes it withstand wear from heavy use and repeated washing.