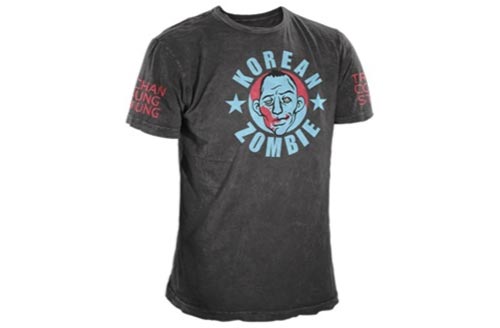 "The Korean Zombie" Chan Sung Jung became notorious for the insane 3 round WAR that he fought against Leonard Garcia in WEC 48 Aldo vs Faber.
Jung gained a ton of fans that night and has built up an incredible following. It's definitely due to the fact that The Korean Zombie always comes to fight.
To pay tribute to the Korean Zombie's epic fight performance, his event sponsor Tri Coasta has created the official Tri Coasta Korean Zombie Signature T-Shirt. It features a cool graphic of Jung's face after a battle on the front of the shirt.
This is the same shirt Dana White wore at the UFC 113 weigh ins and it has blown up to become one of the most popular MMA T shirts. Mainly because it looks awesome!
Become a Zombie! Buy the Korean Zombie Signature T Shirt