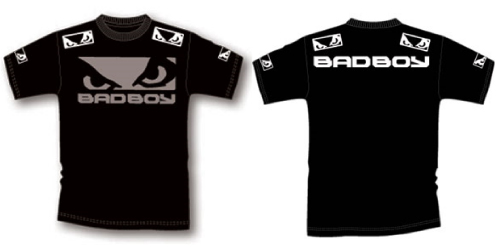 Junior Dos Santos walkout shirt for UFC 103 is Bad Boy MMA's original walkout shirt.
We recently also featured Dos Santos wearing The Bad Boy Pro Series 93 T Shirt, these shirts are of premium quality, just like Bad Boy's line of MMA Gear.
Dos Santos will fight Cro Cop in UFC 103 in the heavyweight bout. Besides the obvious size factor, these two fighters are known for their powerful and devastating striking.
Only two years ago, Junior "Cigano" Dos Santos started in MMA and was rather unknown until he made his debut in UFC 90. He knocked out top contender Fabricio Werdum in a spectacular finish that gave Dos Santos the recognition a very powerful striker. His next fight he defeated Stefan Struve in just 54 seconds, catapulting Dos Santos into the co-main event of UFC 103 against the legendary Cro Cop.
Win or lose in this fight, Dos Santos has certainly tons of potential, he is big, fast, explosive and is trains under the top UFC fighters Anderson Silva and Minotauro Nogueira.