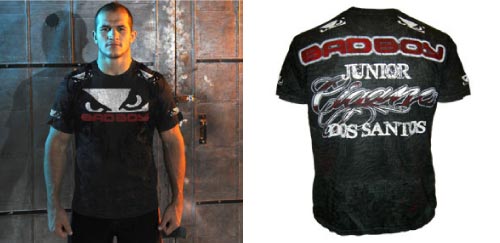 The Junior Dos Santos T Shirt has been updated for his fight in UFC 117. It has the same design as the Dos Santos shirt for ufc 108, but this time that letters and graphics are colored red instead of turquoise.
The front has a large image of the bad boy logo and the back has his nick name Cigano in cursive letters. The Dos Santos shirt has a stylish grey "grinded" finish that gives it a softer feel than most shirts.
Dos Santos will fight Roy "Big Country" Nelson, in a Heavyweight face off that will propel the winner into title contention. Junior Dos Santos has excellent boxing skills and knockout power, and will look to unleash his heavy hands on Roy Nelson.