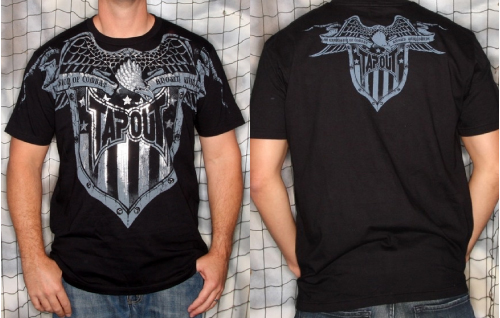 The Jake Shields T-shirt is one of the newest from Tapout and we think its one of the best-looking Tapout shirts. It sleek and refined style that does not have a chaotic or distracting design. On the front is a silver foil Tapout logo that is blended with an eagle, shield and the American flag, which looks awesome together. There is a the famous Tapout slogan on a banner that reads: "An Expression of Combat Known Worldwide". And on the back is a smaller version of the eagle icon.
Shields is currently on a 12 fight winning streak, and has finished 6 of his last opponents within the first round. He was the first and last of middleweight champ of the Elite XC when he defeated Robbie Lawler by submission.
At the time of this posting, Shields next fight is against Jason "Mayhem" Miller for the Strikeforce Middlewieght title (Cung Le stepped down as the champion, to become a movie actor). This fight will be broadcast on CBS national TV on Nov. 7 2009 Rogers vs. Fedor.
A Beginner's Guide to the Different Types of MMA Gloves
How to Choose a Gi for Brazilian Jiu-Jitsu (BJJ)
How to Choose an MMA Rashguard for MMA Training
How to Choose Cup for MMA Training
How to Choose Shorts for MMA Training