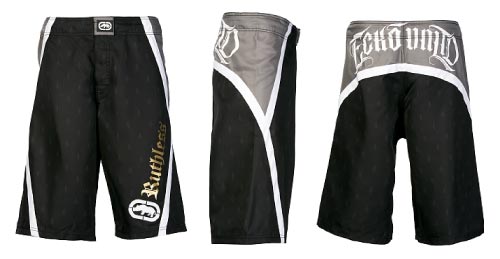 Ecko Unlimited Fleur De Ecko shorts brings plenty of style into your MMA wardrobe. It's an MMA short for those of you that want a more fashionable fight short.
The interesting part is that most Ecko's previous shorts featured extremely graphic and "over the top" designs that included skulls and wings. However, The Fluer De Ecko has a cleaner design with a Fleur pattern. A "Fleur" is a decorative symbol used on countless European coats of arms and flags over hundreds of years. (You can also see this symbol on GSP's war crest shirt). Good to see the range of designs that Ecko can produce.
The front of the shorts features the fleur pattern on a black fabric. A solid white stripe cuts at an angle to divide the shorts up into two and sections the top/back into a gray fabric with the Unlimited logo. The word "Ruthless" is embroidered in gold on the left leg, a saying that's found on most of the new Ecko MMA Shorts.