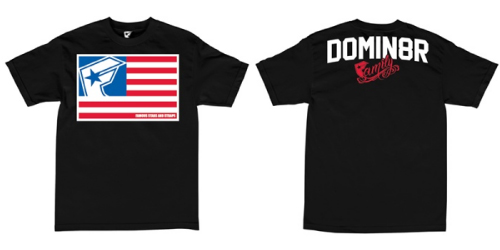 This is the new Dominick Cruz T shirt that he will wear at UFC 132 when he walks out to face his arch nemesis Urijah Faber for the UFC Bantamweight Title. As you may already know, these two fighters absolutely hate each other and it is definitely going to be one of the best grudge matches in the history of the UFC.
The shirt by Famous brand features Dominick's nickname "Dominator" on the back of the shirt but it is cleverly spelled with the number 8.
On the front of the shirt is a creative design involving the American Flag. The Famous brand "F" logo takes place of the stars section in the flag.