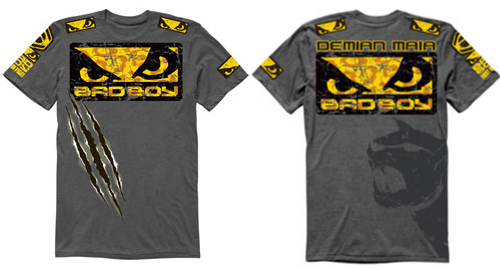 Demian Maia, one of the top Jiu-Jitsu practitioners in the UFC will fight Dan Miller in UFC 109. The Demian Maia Bad Boy T shirt will be his walkout shirt for this fight, where he looks to make a comeback after a KO loss from Nate Marquardt.
BadBoy has created a unique signature T shirt for Maia, it features the Bad Boy eyes logos but also has these intense claw scratch marks on the front and a jungle cat image on the back. It is definitely a "one-of-a-kind" shirt.
Maia is one of the recent fighters added to Bad Boy MMA's signature lines which also includes Top Heavyweight contender Junior Dos Santos, Shogun Rua, Diego "Nightmare" Sanchez and Roger "El Matador" Huerta.