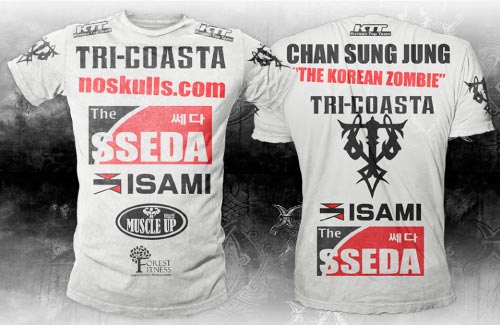 Chan Sung Jung (nicknamed: The Korean Zombie) made a very memorable performance in WEC 48, the first PPV event for the promotion.
Jung fought an intense battle with Leonard Garcia, although Jung lost, he was awarded the fight of the night bonus for demonstrating great heart and aggressiveness. He really brought it on. He's made some loyal fans from this fight.
The Korean Zombie wore this Tri Coasta Noskulls T shirt. Tri Coasta is a fresh new MMA brand that aims to break the mold on the usual gothic type "skulls and wings" t shirts.
Jung's T shirt, as you can see, has a ton of sponsors on it. Tricoasta has a great line of other T shirts that focus more on style than sponsorships.
Buy Chan Sung Jung Walkout T Shirt
Highly recommended:


The Official Korean Zombie Signature T shirt