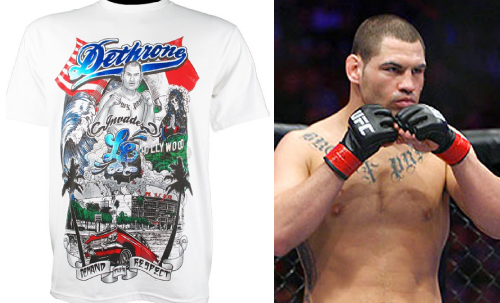 Dethrone has made the Cain Velasquez Shirt for UFC 104, it is a limited edition and only 104 shirts have been made.
The shirt is titled "Cain Invades L.A." symbolic of the UFC 104 taking place in Los Angeles where Velasquez will fight Ben Rohtwell. A victory here will solidify Velasquez's place as the top Heavyweight contender and should put him next in line for the title.
This Dethrone shirt is as unique as they get. There is a drawing of Cain at the top center, while surrounding him are familiar images associated with Los Angeles. The American and Mexican flag is also displayed. As you may know Velasquez is very proud of his Mexican heritage and can be seen in all Cain Velasquez Shirts.
Get the Cain Velasquez Shirt UFC 104 Limited Edition! only 104 shirts made
You might also like:



Cain Velasquez T shirt UFC 121 vs Brock Lesnar