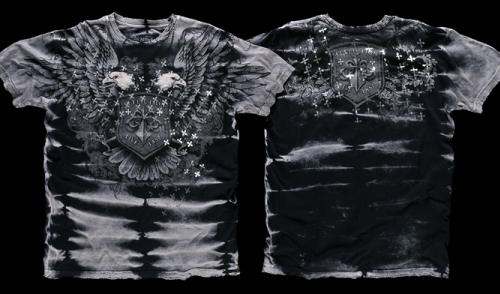 Affliction keeps cranking out fresh and unique T–shirts. One of their newest releases is the called Affliction "Hopeless" t shirt. This one is a little different than most of their designs as it doesn't have huge Affliction letters, but still has the same popular style.
Instead the shirt has a subtle Affliction logo on a crest on the front center and top of the back. While the front of the shirt has a design similar to the United States Seal of an eagle with its wings spread, except that this one has a two headed eagle. Pretty cool looking.
The shirt also incorporates a black lava wash and cotton that has been grinded for an ultra soft comfortable feel. There are silver foil accents to highlight various segments of the design that makes it really stand out.
This is simply one of the better looking Affliction shirts! Affliction Hopeless T-shirt