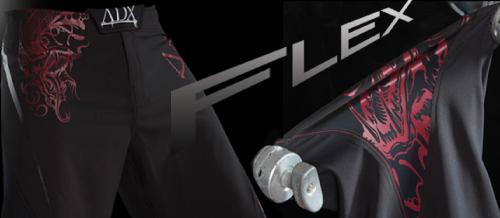 The ADX Black Dragon MMA Shorts are built for fighters who want ultimate performance in a fight short. ADX is a surf and extreme sports apparel company with tons of experience in making comfortable, durable and stylish gear for extreme sports.
These shorts are the dark version of ADX's "White Dragon" MMA shorts is made of advanced .5mm neoprene flex panels that replace the side slits in normal mma shorts. This provides more durability and less chance of ripping while still giving you the flexibility of side slits.
For additional flexibility and mobility, the Black Dragon ADX has 4 way dry-flex body fabric for all-over flex and stretch capabilities. The interior of the waistband has a "suede like" material for an incredibly soft feel for much more comfort than most MMA shorts.
Besides the comfort and durability, the shorts also have a killer design. It's not to flashy but has just the right amount of style to look good in cage when you dominate your opponent. An ADX logo is positioned on an angle on the back and upper front. A sharp looking dragon silhouette is on the leg and on the hip to complete the short's innovative styling.