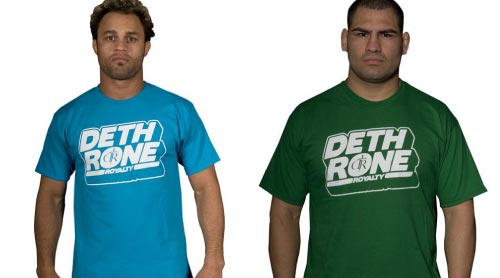 Dethrone's Block T Shirt takes a different look from the usual Dethrone style of the very graphic all over print design.
The block t shirt has a fresh and sporty look, with only a Dethrone logo on the front. It's one of the more unique MMA T shirts, for those who want an alternative look. What is most interesting about this design is that the Dethrone name is cut in the middle and stacked to read DETH…. RONE, pretty cool. Only those who are into MMA will be able know the brand.
Josh Koshcheck and Cain Velasquez are pictured above wearing the Dethrone Block T shirt.