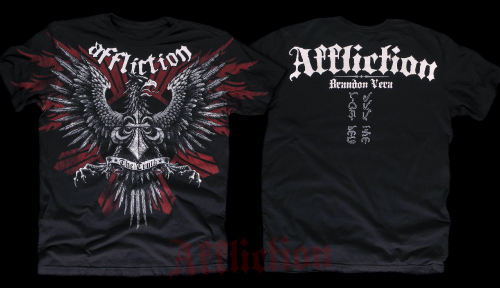 Affliction has made a signature Brandon Vera's UFC 105 T shirt. Vera has the opportunity of a lifetime in his upcoming fight against legendary Randy Couture in the main event.
A victory over Couture would give Vera the recognition and a huge step up the ladder to get a shot at the Light Heavyweight title. This is a great fight for Brandon Vera and we wish him luck.
The Affliction shirt that Vera wears at UFC 105 features the distinctive Affliction style. It has a single warbird on the front with this nickname "The Truth" on a small scroll. The back of the shirt features a replica of the tattoos that Brandon Vera has on his back. They are Babayin (Ancient Filipino script) Symbols that signify Mundo (Earth), Hangin (Wind), Tubig (Water) and Apoy (Fire).